2018 Leaders Guide
There is a magic about being at Summer Camp. Walking and living on the land that once was called home by Native Americans, surrounded by the history of another time and experiencing, first hand, the grandeur of the Great Out of Doors, makes Scouting come to life.
The Pathway To Adventure Council operates two Boy Scout Camps located in the Woodlands of Northern Wisconsin. The glaciers that once covered the area shaped the land of both camps and yet they are different. Both camps are abundant with wildlife - deer, beaver, raccoons, and the occasional black bear, to name a few; birds galore in too many varieties to count; and great fishing. Camp is rich in wondrous sites, scenic lakes and the wonder of the night sky like you have never seen before.
Camp Shin-Go-Beek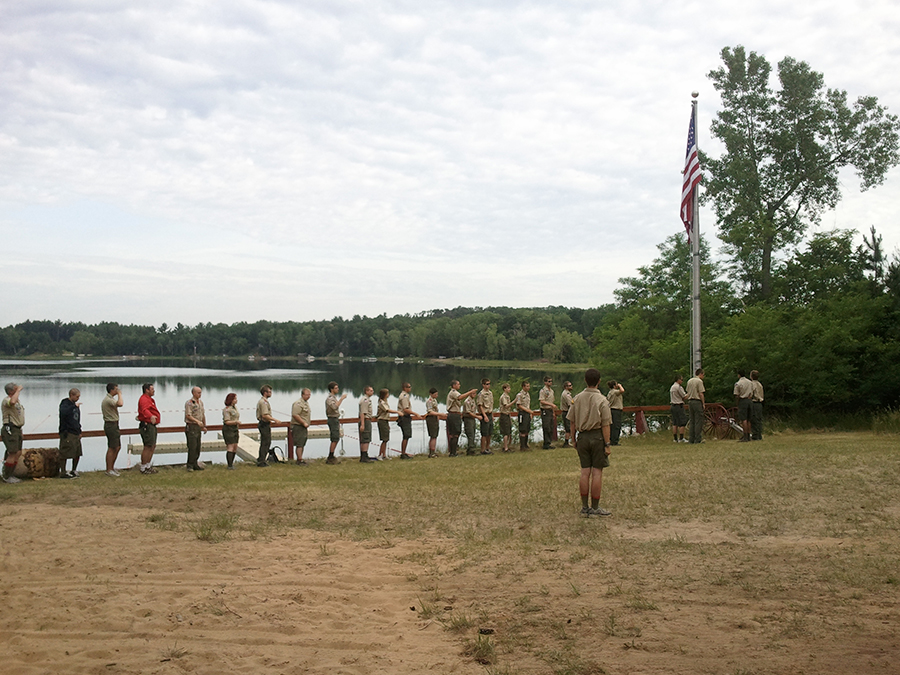 Click here for more info
Located 12 miles south of Waupaca, Wisconsin on Twin Lakes, the camp consists of 504 acres of rolling hills, forests, and crystal clear lakes in the heart of Wisconsin. The gently rolling hills and sandy soil are a result of the grinding action of the glaciers, which once covered the area.
Mailing Address
Camp Mach Kin O Siew
(Scout's Name)
Troop # _____ (Campsite Name)
W11895 Outlet Drive
Elcho, WI. 54428
715-275-3580
Camp Mach-Kin-O-Siew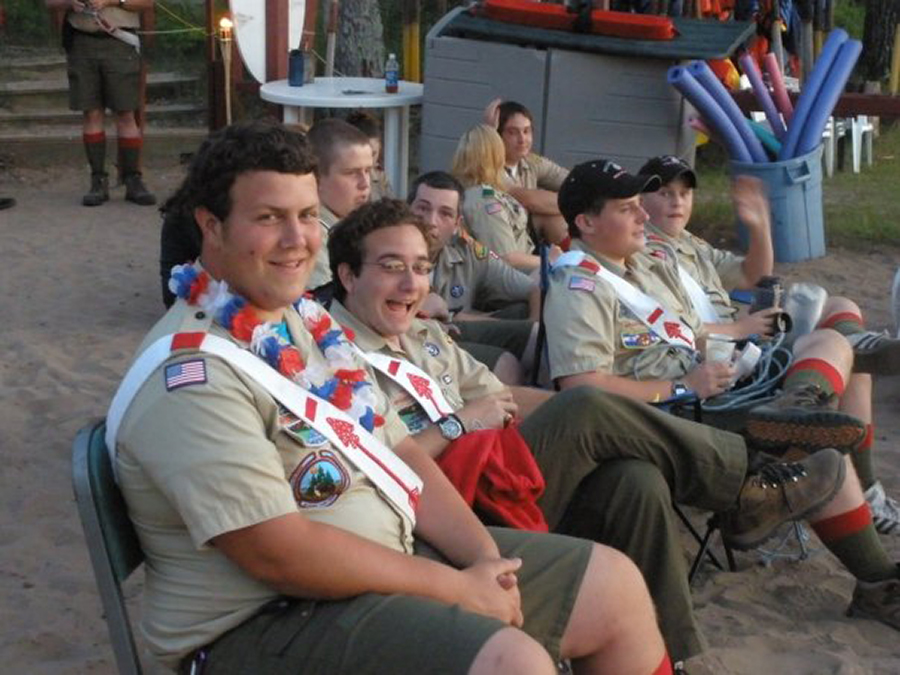 Click here for more info
Located five miles from Elcho, Wisconsin on Lake Enterprise the camp consists of 540 acres of heavily wooded land with two glacial lakes, beaver dams, bogs, and plenty of wildlife. The land is hilly. Large rocks, left when the glacier retreated, are a common site.
Mailing Address
Camp Shin Go Beek
(Scout's Name)
Troop # _______ (Campsite Name)
N7015 24th Lane
Waupaca, WI. 54981
715-258-2271
---
The Basics
Getting to Camp
Getting to camp is easy!

Maps of Camp
Camp maps are availiable here:

Tour Permits
Tour permits are not required to come to Camp Shin-Go-Beek or Camp Mach-Kin-O-Siew as of March 1st 2011.
Camp Address and Mail
Your complete address, as illustrated above, is essential for mail delivery at camp. Incoming mail will be placed in the troop's mailbox on a daily basis and may be picked up by any ADULT from your unit. Remember that it takes 3 or 4 days for a letter to be delivered between camp and home. Parents should allow for this when they send mail to their son in camp.
Phone calls at camp
Phone calls to camp should be limited to Emergencies only. Upon receiving a call, a message will be taken and we will locate the person and have them return the call. The incoming phone line at camp needs to be kept available for camp business and emergencies and no outgoing phone calls will be allowed on this line. There is a phone in camp that can be used by adults or Scouts (when accompanied by an adult). It is recommended that parents NOT ask their scout to call during the week as it is our experience that such calls lead to homesickness. In the event that a Scout does become homesick, the camp procedure is to keep the Scout busy and, if at all possible, avoid calling home. This is done in conjunction with the Troop leadership. Homesickness can be very severe but experience has shown that a Scout kept busy is a Scout who gains confidence. While the final decision is up to the parent, we urge that, if their Scout calls home, they should encourage their son to stay at camp.
Camp Fees

Youth Pricing

Early Bird pricing up to May 31, 2015: $280.00 ea.

Starting June 1, 2015: $320.00 ea.

Adults: $165 ea.

The Camp fee covers 17 meals and 6 nights lodging, staff and program supplies. Prorating for missed meals is not available.

Program Fees All program fees are included in the pricing, including Crafts, Shooting Sports, and the High Adventure Program.

Refund Policy

All requests for refunds must be made in writing to the Pathway To Adventure Council
All requests for refunds must clearly state the reason for not attending the event/activity. Refunds will be considered when cancellation is due to medical reasons, death in the family, or changes in work schedules.
An administration charge of 10% or $5.00 (whichever is greater) will be deducted from all approved refunds.
No refunds will be given once an event/activity has begun.
Requests for refunds will be considered according to the following schedule:

If notice of cancellation is received at least 60 days prior to the event: 100%*
If notice of cancellation is received at least 30 days prior to the event: 50%*
If notice of cancellation is received less than 30 days prior to the event: 0%
*Less administrative charge of 10% or $5.00 (whichever is greater)
Camperships / Scholarships
We want everyone to come to camp, regardless of financial means. If you or your troop require assistance, please contact us to discuss campership availability.
Participants
Unit Leadership
All units in camp must comply with the guidelines set forth in Youth Protection Training. A minimum of two adults must be in attendance at camp. The unit leader must be 21 years of age or older. The second leader may be 18 years of age or older. All adults in camp must be registered members of the Boy Scouts of America.
The best available adult leadership should be recruited to accompany each unit. In keeping with the policy of the Boy Scouts of America, there are no gender restrictions for adult leadership at the Pathway To Adventure Council Camps except that each Coed Venturing crew must have coed adult leaders. Each adult must be a registered member of the Boy Scouts of America.
Coed Venture Crews are required to provide coed leadership while en route to and from camp and while staying at camp. A Coed Venture crew must have at least one male leader and at least one female leader, each of whom must be at least 21 years of age. Male and female youth participants will not share the same sleeping facility. Male and female leaders are required to have separate sleeping facilities. Married couples serving as adult leaders may share the same quarters. Female leaders must be responsible for the female participants; male leaders must be responsible for the male participants.
Leaders must be physically capable of participating in the camp's programs. Each leader is expected to reflect high moral standards established by custom, traditional values, and religious teaching. In keeping with the Aims and Methods of Boy Scouting, all leaders are expected to Set the Example for their Scouts. A Scout will imitate what he sees his leader do, especially if it contradicts what he is told. For this reason it is vital to your troop's and the camp's programs that all leaders set the example with regard to conduct, dress, language, and following established rules.
We recommend that groups identify alternate leadership able to "step in" at the last minute in the event a leader is not able to attend. The Pathway To Adventure Council can provide staff to meet the BSA, two-deep leadership requirement in certain situations only when approved ahead of time.
Youth Protection
All registered adults must have current BSA Youth Protection Training. This training is available at camp - see your commissioner, or can be taken on line prior to your arrival at camp. The online training is available at https://myscouting.scouting.org.
Because of the great concern the Boy Scouts of America has for the problem of child abuse in our society, the Youth Protection program has been developed to help safeguard both our youth and adult members.
Printed, videotaped, and on line training materials have been prepared to give professionals and volunteers information on the resources available for educating our membership about child abuse - how to avoid it, how to identify it, and how to deal with it. These materials and local council training programs are designed to give parents and their children basic information that will increase their awareness and sense of personal power to assist in their own self-protection.
Unit leaders can learn more from these materials:

Child Abuse: Let's Talk About It (No. 3943); Spanish edition, Abuso de los Ninos, (No. 94-006)
Youth Protection Basic Training for Adults (Cub Scout and Boy Scout, No. 90-148; Explorers, No.34-225)
How to Protect Your Children from Child Abuse: A Parent's Guide - Included in all Boy Scouts of America handbooks as a special insert
A Time to Tell (video), available from district executive or local council service center
Youth Participants
In keeping with the policies of the Boy Scouts of America, rules for participation are the same for everyone without regard to race, color, national origin, age, sex, or disability.
Youth must be registered members of the Boy Scouts of America, and may participate in a summer camp experience as members of a chartered unit - Scout Troop, Varsity Team or Venture Crew. Crews with female youth participants may only attend as a chartered Venturing Crew. Each unit is required to have a majority of youth participants.
Patrol Size - 8 Members
At camp, patrols consist of 8 members. Experience has proven that the best size for a patrol is 8 people. Because the programs and menus have been developed for this number, you will find handling patrol chores more efficient, food distribution best (patrol meals are portioned for eight youths, one adult, and one staff and will be packaged based on troop head count) and program opportunities greatest. Also, keeping the patrol together will be easier. Patrol campsites are designed to comfortably accommodate 8 persons.

We recommend units be well organized prior to arrival at camp, including the utilization of a patrol structure and applicable leadership (ex: Senior Patrol Leader).
Uniforms
The BSA Class A uniform is mandatory equipment for all Scouts and Scouters in camp. Specifically, the full Class A uniform is required for morning and evening meals, flag ceremonies, campfires, and chapel service. During the day a variety of Scouting tee shirts or your group's own "informal" shirt would be appropriate. Non uniform apparel needs to conform to the standards of the Boy Scouts of America. No words, phrases, or images that would be considered offensive will be allowed.
What to bring to camp
Although no one wants to overpack, you will want to bring sufficient gear to be comfortable for your week long stay. An overview of necessary equipment is given below, with a checklist on the next page.
Tents
Two person wall tents with floorboards and cots are provided if requested. Units may request camp tents within the activities registration login located here: www.sgbmkos.com. The tents do not have mosquito netting. You may wish to bring mosquito netting with you to increase your comfort while you are in camp. Mosquito netting is available at the Scout Shop at the Council Service Center, and in the camp trading post. (Tents are allocated based on 2 youth or adults per tent). If you choose to provide your own tents, they must comply with BSA regulations relating to tents used in a long-term camp. It is also recommended that each tent provide a minimum of 30 square feet of space per camper. Note: cots and floorboards are not generally provided to units that bring their own tents.
Dress for the weather
Weather at camp can bring unexpected extremes. Even if it is hot during the day, nights usually cool down quite a bit and a sweatshirt or jacket would be most welcome. Don't forget your rain gear. The program goes on rain or shine.
What to wear
Several changes of clothing are needed for your week at camp. You will want to bring with you warm clothes for the cool evenings, clothes you can run around in and of course your complete Boy Scout Uniform. The Boy Scout Uniform will be worn for morning and evening flag ceremonies and meals.

Shoes must be worn at all times in camp. The only exception is when you are in the water. Bring sturdy shoes for wear during the day, an extra pair to change into when your first pair gets wet, and something comfortable to wear around the campsite.

Non uniform apparel needs to conform to the standards of the Boy Scouts of America. No words, phrases, or images that would be considered offensive will be allowed.
Sleeping Bags
Camp provides cots for campers. A sleeping bag will provide the warmth you need for the cool nights. You may, however, wish to bring sheets and blankets.
Photography
Although optional, a camera will record memorable experiences and beautiful scenes. Camp provides countless opportunities for you to capture sights that you just can't see at home. "Leave only Footprints, take only Photographs"
Phones / Tablets / Computers
Unit leaders may bring electronic communications devices. Wifi is available in the administration building / scoutmasters lounge. Unit leaders are encouraged to use their electronic devices in the administration building to take care of responsibilities back home. Charging stations are available in the scoutmasters lounge as well. We discourage the use of electronic devices around the youth participants, however we understand that this may not always be possible.

We do not allow youth participants to charge their electronic devices in camp to encourage their outdoor experience. Situation dependant exceptions can be made ahead of time though. Please contact us with questions.
Personal Possessions
Camp is an outdoor experience. Personal valuables, (watches, wallets, money) should not be left out in the open at camp, but should be kept in a secure location. Many troops will bring a lock box with them to camp in order to secure personal possessions while scouts are swimming or showering, etc.

The camp is NOT able to provide secure storage for valuables.
Lost and Found
The lost and found is located in the camp office. Be sure to check the lost and found box before your unit leaves camp for the week. While every effort is made to reunite objects with their owners, the Camp can not take responsibility for items turned in to the lost and found. Any items not claimed will be disposed of at the end of camp.
Trading Post
The camp Trading Post is your source for many different items to make your stay in camp more enjoyable. The Trading Post carries Scouting Literature, Merit Badge Books, craft kits, and other books useful while you are at camp. It also has a full line of T-shirts, water bottles, and knives with the camp name as well. Refreshments are also available. Hours of operation are posted at the Trading Post.
What to Bring
Download our camper packing checklist here
Conduct
Summer Camp means camping with your own unit as well as meeting and sharing experiences with other Scouts from all over the Council and from other Councils as well. This is an opportunity or fellowship and understanding you just don't get back home.
The Scout Oath and Law should serve as guide in all interactions with other participants and staff. Our camp serves groups from many different backgrounds and it is important that each group respect one another. This includes coed and female crews and female staff. It is not acceptable to act in a manner that belittles, harasses, or makes others uncomfortable. Appropriate conduct is best encouraged when leaders set model examples.
Any form of hazing, initiations, ridicule, or inappropriate teasing is prohibited and must not be allowed.
Each group should develop a procedure regarding unacceptable behaviour and/or conduct. The best method to accomplish this is to outline expectations before the trip, as well as consequences if a participant chooses to act in a way contrary to established guidelines. Parents/guardians must be informed of the guidelines. Remember, leaders are responsible for their participants at all times - The Pathway To Adventure Council Camps cannot and will not provide supervision should a participant be removed from participation for discipline reasons, they must be sent home at their own expense. An adult leader will be required to provide supervision and assist with transportation arrangements in the event a participant is sent home.
Tobacco
Our Scout Oath reminds us to keep ourselves physically strong. The use of smokeless or smoking tobacco adversely affects the body and causes cancer. No smoking is permitted in camp except in the designated area.
Alcohol and Drugs
Possession or use of alcoholic beverages and unprescribed drugs or misuse of prescribed drugs or chemicals, or being under the influence of these items is expressly prohibited. Groups or individuals (youth or adult) found in violation of this national Boy Scouts of America policy will be sent home immediately as arranged with the responsible parent.
Private Vehicles
Personal vehicles are not allowed on camp roads at any time. All personal vehicles must be parked in the designated parking areas. Troop and personal equipment may not be transported to the campsite with personal vehicles. The Camp Staff will move troop trailers to the campsite and will provide transportation for troop gear to your campsite. Personal gear is to be carried to campsites.
Emergency Transportation
The Camp Staff will assist with transportation arrangements that result from a family emergency (death or serious illness) that occurs during a troop's stay at camp and requires a participant to return home. Any costs incurred are the responsibility of the unit/individual.
Security
We do not have the facilities to offer secure storage of valuables at camp. Never leave valuables in tents or unattended. The Pathway To Adventure Council is not responsible for lost or stolen items.
Low Impact Camping
Camp is a magnificent wilderness camping area with a network of trails and camps tied together by service roads designed for service and protection of both campers and land. Coinciding with our concern for the wilderness is to practice "Low Impact" camping. For camp to survive intense use year after year, each participant must make a personal commitment to the environment. The philosophy of "Low Impact" is that we leave minimum evidence of our passing in the wilderness. In other words, a conscientious camper should erase any sign of a camp. Each camper and advisor is asked to declare that he or she will do everything possible to preserve the beauty and wonder of the wilderness through good Scout camping. It is expected that campers will carry this pledge to all camping areas that they might visit throughout America.
LITTER/GRAFFITI



Each camper should make sure that all trails and campsites are left neat and clean, including shower, program and tent areas. This is everyone's responsibility, not the job of just the camp staff. All leaders are strongly urged to instill in their scouts the importance of first not littering and then picking up litter if and when they see it.
While litter can be picked up, graffiti often permanently defaces our property. Do not contribute to this problem. Defacing tables, floorboards, or equipment may result in a charge to your unit for repair/replacement of damaged items.Each camper should make sure that all trails and campsites are left neat and clean. Camping Headquarters should be left in a like manner.

WILDLIFE


Respect all wildlife. Follow all guidelines regarding food handling and trash disposal. Never feed or harass wild animals. Remember that these animals are wild, not tame, and while they may seem friendly, they will defend themselves if they feel threatened..

WATER


Remember you are in a land where water is very precious. Conservation and wise use of water has been practiced since the first person entered this land. Use all the water you need, but don't waste.

TRAILS


Pledge yourself to respect all trails. Do not cut green boughs or trees, or mark them. Do not alter or change trail signs.

CAMPSITES


Each Troop is responsible for leaving a neat and orderly campsite. Your campsite should be left litter free and in a better condition than when you moved in. Your campsite is your home for the week, but it was/will be the home of other Scouts during other weeks of camp. Leave a campsite that you will be proud to move into yourself.
Camp serves hundreds of scouts every year. Some of the trails and campsites are subjected to heavy use. It is not the wear of the hundreds of pairs of boots that mars camp. It is the carelessness and thoughtlessness of inconsiderate campers. With your help and cooperation, camp will always remain a beautiful and clean place to enjoy the wilderness.. Your campsite should be left litter-free with its latrine and sump clean.
We realize that there will be some high impact areas in camp due to the number of participants in our program each year. However, it is the genuine desire of the staff to instill the "Low Impact" philosophy into our participants. We hope they carry this way of camping into other primitive and delicate areas around the nation. Take with you precious memories, leaving only footprints.
Garbage Disposal
Do not throw garbage into the woods. All garbage should be put in plastic bags and placed in the proper receptacles.
Latrines
Latrines are provided for your use in all campsites. They should be kept clean and free of graffiti by your Scouts. Garbage and trash must not be put in any latrine at any time.
PREVENT FOREST FIRES
Our forests are a beautiful and valuable heritage. Observe all of the following rules:
Build fires only in established fire pits
Build fires with flames no taller than your shortest Scout.
NEVER leave a fire unattended
Make sure that all fires are DEAD OUT when you leave your site
Should you discover a forest fire DO NOT try to put it out. Evacuate the area and contact the camp staff immediately
Firearms and fireworks
Firearms are not allowed at camp except those furnished on designated rifle/shotgun ranges. If you intend to bring a firearm with you it must be checked with the Shooting Sports Director immediately, be approved for use at camp by the Shooting Sports Director, and will remain under his control for the duration of your stay in camp. No firearms, or ammunition, may be stored in personal vehicles.

Fireworks have no place in camp and should not be brought to camp! Violation of these rules will be cause for immediate removal from camp.
Health and Safety
The primary goal of the Boy Scouts of America is for each camp participant to have a safe and enjoyable experience. Proactive measures make this goal easier to attain.
Health and Medical Record
Every camper is required to have a medical evaluation within the past 12 months by a physician licensed to practice medicine. Leaders and campers must complete the appropriate sections of the new Boy Scouts of America Annual Health and Medical Record. Leaders should collect and copy the forms before leaving for camp and hold the copies until they are turned in to the Health Officer upon arrival at camp. The camp is required by state law to retain medical records of all participants; therefore it is prudent to have the parent or troop keep the originals and turn in copies at camp. Please also note that the Health and Medical Record requires that a copy of an insurance card be attached. Forms are available http://www.scouting.org/filestore/HealthSafety/pdf/680-001_ABC.pdf.
Religious Beliefs and Medical Care
The following is the policy of the Boy Scouts of America regarding medical requirements: Medical examinations for camp attendance are required of all campers for the protection of the entire camp group. The immunization requirement is waived for persons with religious beliefs against immunization.
First aid and CPR certification
We recommend that at least one person, preferably two, (either a leader or a youth participant) in each unit be currently certified in American Red Cross Standard First Aid or the equivalent* and CPR from the American Heart Association, the American Red Cross or the equivalent. First aid and CPR training will result in proper and prompt attention being given to injuries and/or illnesses.
Food substitutions for allergic and religious reasons
Camp food is by necessity a high-carbohydrate, high-caloric diet. It is high in wheat, milk products, sugar and corn syrup, and artificial coloring/flavoring. If an individual is allergic to some food products or requires a special diet, the camp must be notified a MINIMUM OF 2 WEEKS before your arrival at camp so that alternate food choices can be acquired.
Food substitutions may be requested only for medical (including allergies) or religious reasons. Your cooperation is appreciated. If there is any question about food substitutions, please contact us a minimum of 2 weeks before your arrival in camp. We will then make every effort to accommodate special food needs.
Recommendations regarding chronic illnesses
The Pathway To Adventure Council requires that this information be shared with the parent(s) or guardian(s) and examining physician of every participant.
CARDIAC OR CARDIOVASCULAR DISEASE

Adults or youth who have or have had any of the following should undergo a thorough evaluation by a physician before considering participation at camp. Additionally, the Camp Director and Camp Health Officer need to be informed of anyone with these conditions so that adequate medical care can be provided.


Angina (chest pain caused by heart or coronary artery disease)
Myocardial infarction (heart attack)
Surgery or angioplasty to treat coronary artery disease; surgery to treat congenital heart disease, or other heart surgery.
Stroke or transient ischemic attacks
Claudication (leg pain with exercise caused by hardening of the arteries)
Family history of heart disease or a family member who died unexpectedly before age 50
Excessive weight
Smoking
Hypertension (High Blood Pressure)
Insulin Dependent Diabetes Mellitus
Seizures (Epilepsy)
Asthma
Recent Musculoskeletal Injuries and Orthopedic Surgery
Psychological and Emotional Difficulties
Medications
Each participant at camp who has a condition requiring medication should bring an appropriate supply, in the medication's original bottle, as medications are NOT available at camp. People with an allergy to bee, wasp or hornet sting should bring an EpiPen or equivalent with them to camp, if prescribed by their physician. With the exception of such urgently needed medication, all prescription medication (for youth or adult participants) MUST be turned in to the Health Officer upon arrival at camp.
Safe and healthy camping
Strict adherence to proper health and safety practices is crucial at camp. Whether it is in food preparation or in personal hygiene, you are responsible for your well being. As a leader, you are responsible for watching your Scouts to make sure that they stay in a safe and healthy condition. Proactive intervention is vital to preventing or minimizing the impact of injury and illness. Listed below are potential concerns to watch out for:
HEAT EXHAUSTION
Prolonged physical exertion in a hot environment may cause heat exhaustion. The subject may feel faint and have a weak, rapid pulse. Body temperature usually remains near normal. The afflicted person should be brought to the health lodge for treatment.
HYPOTHERMIA
Hypothermia results from exposure to cold, wet weather, with most cases developing in air temperatures of 30o to 50o F. Wind, wet weather, or exhaustion increases the chance of hypothermia. Always use raingear and change clothes when you become wet. Symptoms include faltering coordination, slurred speech, loss of good judgment, disorientation, numbness, and fatigue. The afflicted person should be brought to the health lodge for treatment.
ACCIDENTS
Most accidents occur late in the day in camp, not during activities. Many of them involve horseplay. Fatigue may impair a Scouts performance and judgment. Rock throwing, improper use of equipment, running through campsites, climbing trees and carelessness around fire lays are prevalent causes of accidents. To avoid them, discipline should be maintained and safety practiced in all activities.
Arriving at Camp
Planning your trip and being ready to check in will make your arrival and set up go smoothly for you and your unit.
Timing your arrival
Plan your travel to arrive at camp at no earlier than 1:00 PM on the Sunday you are scheduled to arrive. We are not able to accommodate those who arrive before 1:00 PM. Camp will be closed to all usage from Noon on Saturday to 1:00 PM on Sunday.
Vehicles in camp
Personal vehicles are not allowed on camp roads at any time. All personal vehicles must be parked in the designated parking areas. Troop and personal equipment may not be transported to the campsite with personal vehicles. The Camp Staff will provide transportation for objects too heavy to carry to your campsite.
Check in
The Scoutmaster/Unit Leader should proceed to the Camp Director to begin the check in procedure. At this time, a complete roster of all youth and adults attending camp needs to be turned in. Medical forms are to be turned in to the Health Officer at this time along with all prescription medications. The Health Officer will perform any necessary medical rechecks at this time. Camp security identification will also be distributed at check in. A staff member will be assigned to you at this time to serve as your guide for the rest of the day.
From point on, your unit will complete the following actives and will be guided to them by your unit's staff guide.
Proceed to the campsite and begin to set up camp. Personal gear should be carried to the site. If you have troop equipment too heavy to be carried, the camp staff will arrange for transportation of this equipment to your site. No personal vehicles are to go beyond the parking lot at any time.
At Camp Shin Go Beek, receive Dining Hall Table Assignments.
Proceed to the quartermaster to draw troop equipment for the week.
All youth and adults are expected to take a swimming level test during their first few hours at camp, or have completed a swimming classification test prior to arriving at camp. (see form at end of this guide). This allows the Waterfront staff to group swimmers by ability. Some activities are limited to those Scouts and Scouters who successfully complete the Swimmer's test. Other opportunities exist for Beginners and Learners, including quality instruction and the change to improve swimming technique and skill. If your unit has already had their swim tests taken before coming to camp, turn in the swim test forms at this time. If you need swim tests, they will be performed during this period.
When you have completed these steps, you are free to return to your campsite and complete settling in. The remainder of the afternoon is yours to use as you see fit. The first scheduled activity will be dinner. If, while you are setting up, you are in need of any equipment, supplies, or just have a question, feel free to ask your staff guide for assistance or come to the administration building with your request.
Program
Rank Advancement
Advancement should not be considered easier at Camp. However, Camp is one of the best places for your Scouts to work on out of doors type merit badges where they can combine your talents with those of the camp staff. Many advancement requirements can also be completed in the program areas.
Outdoor skills can and should be a large part of your troop's daily camp program. Many Tenderfoot, Second Class, and First Class advancement skills will occur in the course of a regular day of activities and are the natural result of a quality unit program. As Unit Leader you need to be aware of what each individual scout needs to accomplish, allow him the opportunity to learn and/or demonstrate his skill and pass him on it. If there is an area of skill instruction where you would like assistance, the camp staff is ready to help you accomplish this mission.
Eagle Quest
In order for new Scouts to experience all that camp has to offer as well as progress toward rank advancement, Scouts coming to camp for their first time are encouraged to participate in the Eagle Quest program. This program focuses on rank advancement, outdoor skills, team building, and of course, having fun!
High Adventure Canoe Base
Our High Adventure style canoe trip offers a one of a kind experience for older scouts (14 and up) to challenge their outdoor skills and leadership ability, by spending 4 days and 3 nights in the wilderness with only what they can carry. We recommend that any applicant has taken the canoeing merit badge, or has canoeing experience. Please check our website at ,http://www.sgbmkos.com/high-adventure/ for more details.
Religious Services
Camp works with all religious faiths to make possible and encourage full compliance with the 12th point of the Scout Law, "A Scout is Reverent. He is reverent toward God. He is faithful in his religious duties and respects the convictions of others in matters of custom and religion". Responsibility for fulfilling religious obligations rests with each troop leader for his troop and for himself.

There will be at least one inter-faith service held during the course of the week. Information for those wishing to attend Services in a nearby town can be received at the Administration Building.

Each unit is encouraged to hold services in its campsite and is encouraged to say grace before each meal.
Merit Badges
The Merit Badge program at camp is an integral part of the overall program of the camp. Merit Badges, however, are not the entire program and no youth should come to camp exclusively to earn merit badges.
Blue Cards
A blue merit badge card will be the Scouts "ticket" into a merit badge class. This card serves several purposes. By reviewing the merit badges a Scout is working on you, as unit leader, can be sure that the individual Scout is working on badges he needs and is not trying to accomplish too much in camp. Prior to attending a merit badge class, the scout should complete the first part of the card (name, address, unit, etc.) and have the Unit Leader sign the card beneath that information. If the card is not signed, the Scout does not have the Unit Leader's permission to take the badge. The card is then turned in to the instructor at the first session of the class. When your Scouts' cards are returned to you at the end of the week, you will have a record of badges that your Scouts have completed.
Not all merit badges offered at camp can be completed at camp. That is, some badges have time requirements or other requirements that are not practical to complete in camp. If a Scout has worked on requirements for a badge prior to camp, the Scout must bring to the merit badge class a letter/note from the Scoutmaster or other relevant evidence which show the requirements the Scout has completed. All such work must have been completed according to the instructions listed in the merit badge book. If so, this work will be counted towards the completion of the badge.
If a Scout does not complete a badge while in camp, a partial completion will be issued stating which requirements were successfully completed in camp.
Merit badge schedules are available at http://www.sgbmkos.com/merit-badges/
Training
For older Scouts and adult leaders, camp also offers several training courses. As noted in the camp schedule, courses are offered weekly in Trek Safely, Safe Swim Defense, Safety Afloat, Climb On Safely, BSA Aquatics Supervision Swimming and Water Rescue, BSA Aquatics Supervision Paddle Craft Safety, and Leave No Trace. Youth Protection Training is also available for leaders at a mutually convenient time.
Advanced youth and adult swimmers can also be trained as BSA Lifeguards. A BSA Lifeguard trainee should plan to attend one of the week-long morning Lifesaving Merit badge classes as well as spending all of Thursday afternoon and one hour on Monday, Tuesday, and Wednesday afternoons at the waterfront.
Signing Up for Merit Badges
Signing up for merit badges is done through our website, located at http://www.sgbmkos.com. Upon your unit's registration, which can be completed here, When your registration is complete, you will receive login instructions via email to register your attending members, as well as sign up for activities such as merit badge classes and the High Adventure program. Classes fill up quick, so don't wait! Summer is coming!
Swimming classification procedures
The swim classifications of individuals participating in a Boy Scouts of America activity is a key element in both Safe Swim Defense and Safety Afloat. The swim classification tests should be renewed annually preferably at the beginning of each outdoor season. Traditionally, the swim classification test has only been conducted at a long-term summer camp. However, there is no restriction that this be the only place the test is conducted. It may be more useful to conduct the swim classification prior to a unit going to summer camp.
All persons participating in BSA aquatics are classified according to swimming ability. The classification tests and test procedures have been developed and structured to demonstrate a skill level consistent with the circumstances in which the individual will be in the water. The Swimmer's Test demonstrates the minimum level of swimming ability for recreational and instructional activity in a confined body of water with a maximum 12-foot depth and with shallow water footing or a pool or pier edge always within 25 feet of the swimmer.
The various elements of each test evaluate the several skills essential to the minimum level of swimming ability. Each step of the test is important and should be followed as listed below:
SWIMMER'S TEST
Jump feet first into water over the head in depth, level off, and begin swimming. Swim 75 yards in a strong manner using one or more of the following strokes: sidestroke, breast stroke, trudgen, or crawl; then swim 25 yards using an easy resting back stroke. The 100 yards must be swim continuously and include at least one sharp turn. After completing the swim, rest by floating.
BEGINNERS'S TEST
Jump feet first into water over the head in depth, level off, swim 25 yards on the surface, stop, turn sharply, resume swimming as before, and return to starting place.
Administration of swimming classification test
The swim classification test done at a unit level should be conducted by one of the following Council-approved resource people. Aquatics Instructor, BSA; Aquatics Supervisor, BSA Lifeguard; certified lifeguard; swimming instructor; or swim coach. When the unit goes to a summer camp, each individual will be issued a buddy tag under the direction of the Camp Aquatics Director for use at the camp.
Special Note
When swim test is conducted away from camp, the Aquatics Director shall, at all times, reserve the authority to review or retest all participants to ensure that standards have been maintained. For the in-unit checks, please note, that the only people eligible for this option are those who have previously passed the BSA swimmer test IN A LAKE.